Back Taxes Help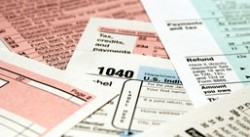 IRS tax deadlines are not suggested due dates. When you fail to file or pay your taxes on time, the IRS can impose severe penalties and fines, compounding your original tax balance exponentially. That's why time is of the essence when you have state or federal back tax matters to straighten out. The sooner you contact the tax help professionals at Taxation Solutions, Inc., the faster we can get moving on effective measures to halt the financial pain of owing back taxes. In the Baton Rouge region, you can feel confident relying on our back tax specialists for the tax assistance you need. Schedule your professional tax help consultation right away over the phone or online!
Do you know how much you owe in IRS back taxes? A lot of individuals and businesses with delinquent taxes actually don't, since fines, penalties, and interest charges can send your initial tax debt total soaring. We'll help you calculate your back tax totals at Taxation Solutions, Inc. Then we'll take all the proper steps to resolve your unpaid taxes, including:
Filing late tax returns
Amending misfiled returns
Determining your best repayment strategy
Negotiating settlements to reduce your tax debt
Petitioning to have penalties lifted
Offering tips on avoiding future back taxes
We've seen the enormous toll back taxes can take when left unchecked, resulting in lost wages, property seizure, and other extreme consequences. When you find yourself with delinquent taxes to reconcile, we're ready to help you make amends with our no-nonsense services for back tax settlement and penalty abatement. Whether you messed up on a single tax return or you haven't paid taxes in several years, now's the time to call us for your back tax help in Baton Rouge. We bring more than 40 years of experience to the table, and we'll use that wealth of knowledge to get your unpaid taxes resolved, penalties and all.
Timely Back Tax Assistance
The IRS generally has 10 years to collect the back taxes you owe before a statute of limitations bars them from further enforcement actions. In that time, you can expect them to come after everything you own in order to secure payment on your outstanding back tax debts. To set the record straight and protect your assets, reach out to the tax help team at Taxation Solutions, Inc. Our staff of licensed and insured tax specialists is well equipped to address your back tax troubles and work out a solution with the IRS or state tax officials that's agreeable to both sides. Why wait even one more day to put your back tax troubles behind you? Call us today.
Are your back taxes taking a turn for the worse? Taxation Solutions, Inc. is standing by with the emergency tax help you need. Don't surrender your wages, vehicle, or home to the IRS. Reach us now for a free consultation right over the phone!
Back Tax Problems
IRS Back Taxes
Back Taxes Assistance
Tax Help
Delinquent Taxes