Tax Relief for Truckers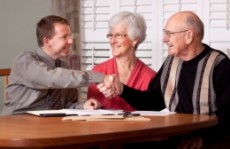 As a long-distance trucker, you're used to running into problems due to bad weather or congested roads. But what you probably aren't prepared for is trouble with your taxes. Unfortunately, tax problems are an occupational hazard for truck drivers, as you often have to file tax returns in a number of different states. If you've missed an important tax deadline or failed to submit the proper forms in the states where you do business, let us help. Taxation Solutions, Inc. is pleased to provide truckers based in Baton Rouge with the tax relief services needed to stay in full compliance with the law. Don't let extended road trips lead to costly IRS tax problems. Contact our tax debt relief pros today to set up a free consultation by phone!
Plenty of taxpayers have been driven to seek professional assistance in order to deal with tax issues. In your case, however, it's actually the driving that's creating the tax complications! The unique circumstances of your tax situation make it tricky to stay on top of your various tax requirements. That's why we're here to help truckers with a wide range of tax relief services, including:
Back tax filing
Tax penalty abatement
Tax settlement negotiation
IRS audit representation
Tax court matters
And more!
After spending hours on the road, the last thing you want to come home to is a mailbox full of IRS notices. That's the whole idea behind our IRS tax relief assistance for truckers. With Taxation Solutions, Inc. taking care of your tax problems while you're away, you won't miss a single deadline. Our tax relief company will see to every detail of resolving your tax issues in Baton Rouge and beyond, so you can concentrate on your driving and leave your tax troubles to us.
Trusted Tax Relief Company
You couldn't ask for better help than the team at Taxation Solutions, Inc. when it comes to securing IRS tax relief. We're a fully licensed and insured tax debt relief firm offering 40+ years of firsthand experience and a strong commitment to providing top customer service. In addition, we're proud to be affiliated with the American Society of Tax Problem Solvers, the National Association of Tax Professionals, and the National Association of Enrolled Agents. Our tax relief services for truck drivers are just one more way we strive to bring hardworking individuals the specialized knowledge necessary for improving your tax situation.
When you're ready to steer clear of late tax returns, back tax debt, and other common tax problems stemming from your long hours of trucking, give us a call. We're Taxation Solutions, Inc., and we'll smooth your way to IRS tax debt relief!
truck driver tax help
tax relief